The Demmer Center offers a variety of classes, leagues, programs, training sessions and youth-specific events in archery. These archery experiences are designed for people of all skill levels and walks of life.
All experiences are taught by patient, courteous instructors who maintain an array of nationally-recognized credentials from USA Archery, NCAA and Olympic Target experience. Please click on any of the offerings to the right to find specific information and begin your shooting experience!
To save time when you arrive, please fill out the Release of Liability, and bring it in with you.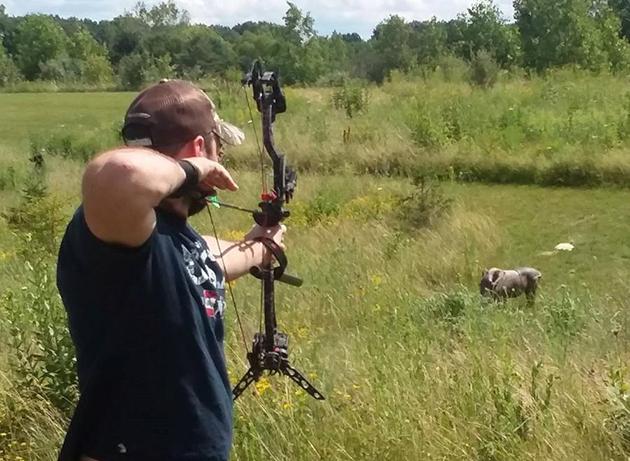 Memberships
We offer single and family memberships.
Memberships allows you to shoot during member and non-member hours and the lane fees are waived.
With a membership you can come and shoot on our 2 indoor archery ranges or three outdoor archery ranges five days a week if you wish.
Family memberships provide full access for immediate family members residing in the same household.
Memberships are a 12-month commitment.
Please note TechnoHunt Video Archery and walking 3D ranges are an additional cost, discounted for members.
Leagues
We offer multiple league options for archery enthusiasts of all levels. Our leagues run seasonally and typically will run from December through March. Please contact our staff for additional details, pricing and sign-up availability.
TechnoHunt Video Archery Leagues

Traditional Archery Leagues

Target Leagues

3D Leagues

Junior Leagues
Archery
Recurve, Compound and Crossbow
There are many different types of archery across the world with the most common in the United States being recurve, compound, traditional and crossbow.
Recurve bows are made up of a riser, limbs and a string. These types of bows are used mainly for competition but also can cross over into traditional style shooting as well.
Traditional shooting includes recurve bows without sights and longbows, which are all-wooden bows where the riser and limbs are combined. Compound bows have a riser and limbs, like a recurve, but additionally have cams that work like a pulley system to make the weight of the bow less.
Compounds, though initially invented for hunting, can now be used for competition as well. Crossbows can either be recurve or compound style with a trigger system much like a rifle.
Crossbows, especially in Michigan, are becoming more and more popular with hunters looking to expand their season.
At the Demmer Center, we offer training in recurve, compound and crossbow. We have the three types of equipment available for rental that you can try before you buy your own equipment.
The Demmer Center has 7 Archery Ranges:
Competition Outdoor Range containing 15 Lanes offers 30 shooting points with a target distance up to 90 meters

Field/3D Outdoor Range containing 15 Lanes offers 30 shooting points with a target distance up to 90 meters

Beginner Outdoor Range containing 15 Lanes offers 30 shooting points with a target distance up to 30 meters

Standard Indoor Range containing 11 Lanes offers 22 Shooting Points, up to 18 meters

Beginner/Junior Indoor Range containing 8 Lanes offers 22 Shooting Points, up to 18 meters

Walking 3D Archery Course (TO BE RE-OPENED SPRING 2023) contains over 30 3D animals with 3 shooting points at 15 of the targets: beginner, intermediate and expert.
Included as part of the Demmer Center is the Becky and Bob Humphries Community Archery Park.
TechnoHunt 400 Video Archery Systems
The Demmer Center is now home to two state-of-the-art TechnoHunt 400 video archery systems.  Come enjoy a virtual hunt with your friends or family with a system containing over 700 scenarios and shooting scenes.
The TechnoHunt 400 system is the world's finest virtual shooting/hunting system with real life scenarios on big and small game.
Bring your bow, some arrows, your friends and we'll provide the rounded arrow tips!