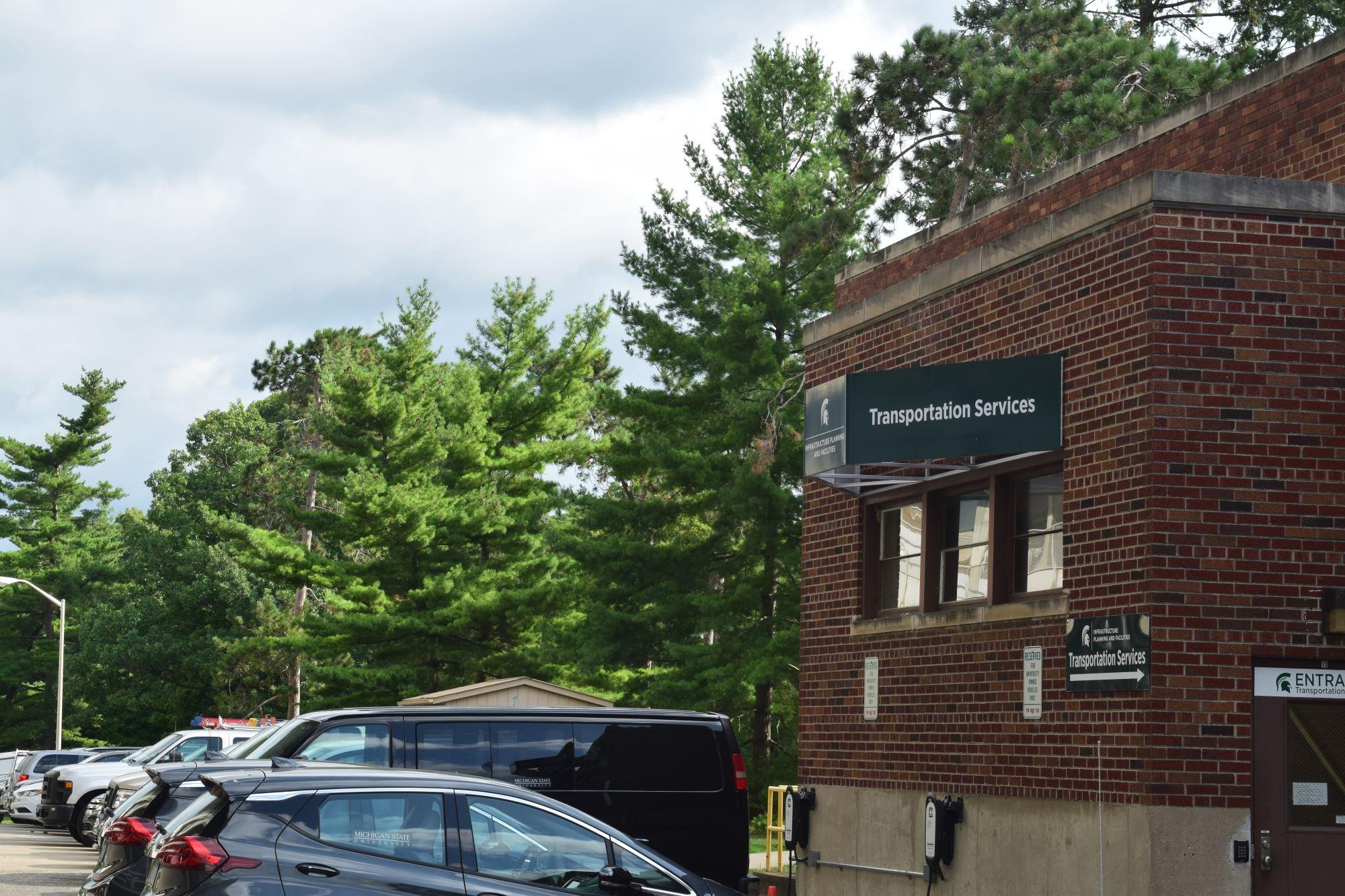 Transportation
Our hours are Monday through Friday, 8 a.m. - 4:30 p.m.
We manage a fleet of 400 university vehicles so that you can travel with confidence.
Services Include
Vehicle rental and leasing: Click the button below to submit a request.
Repair and maintenance of university-owned vehicles and equipment: Call or email for service. See below.
Charter bus service: Call or email for service. See below.
Vehicle fueling and car wash station: Call or email for service. See below.
Vehicle Rental and Leasing
We have a wide variety of 400 vehicles, including eco-friendly options, available to university staff who travel for business.
What we offer
Daily/short-term rentals and long-term leases (90-day minimum)
Low rates: Our rates are consistently lower than off-campus vendors across all types of vehicles.
Minimal wear:

You can minimize wear-and-tear on your personal vehicle(s).

Low cost: It is often more costly to the university to be reimbursed for personal vehicle use.
Easy fueling: Fuel is included in your rental rate and is conveniently available to you on-campus at our fueling station or o

ff-campus using the fuel card provided to you in each vehicle.

Easy billing: Direct billing to your department using an authorized account number eliminates the hassle of reimbursement.
Convenient location: We are conveniently located on MSU's main campus with plenty of parking available.
Models and rates
We may also offer other types of vehicles not listed here.  You can call us for the most up-to-date information on available types and rates.
Short-Term Rental Rates (eff 5/1/23)

| Model | Daily rate | Mileage rate |
| --- | --- | --- |
| Sedan - Standard | $18 | $0.40 |
| Sedan - Standard Electric | $18 | $0.20 |
| Sedan - Hybrid | $18 | $0.37 |
| Minivan | $19 | $0.47 |
| Van - 8-10 passenger | $22 | $0.53 |
| SUV - Standard | $24 | $0.47-$0.49 |
| Sedan - Premium Electric | $25 | $0.25 |
| Pick-up truck | $20 | $0.50 |
Long-term Lease Rates (eff 7/1/22)

| Model | Monthly rate | Mileage rate > 1,000 | Miles included |
| --- | --- | --- | --- |
| Sedan - Standard | $510 | $0.40 | 1,000/month |
| Sedan - Hybrid | $510 | $0.42 | 1,000/month |
| Minivan | $600 | $0.47 | 1,000/month |
| Truck | $665-780 | $0.49-0.54 | 1,000/month |
You can fill out our long-term lease form to qualify (requires 90-day minimum).

Our lease rates are based upon use of 1,000 miles or less per month. Your mileage use above the monthly allowance is billed at the applicable mileage rate. For high-mileage rate options, please contact Motor Pool for more details.

You may occasionally be reassigned a comparable vehicle to help maintain our lease costs.

Your receipts for purchases with the Wright Express cards must be returned to our office as soon as possible after your purchase has been made.
Odometer readings
A long-term lease assignment requires you to report your odometer reading between the 8th and 14th day of each month. A reminder email will be sent to you each month. Failure to provide the odometer reading may result in an additional fee of $50 per month.
Rental Considerations
Accessibility
We offer a wheelchair-accessible minivan that can accommodate two wheelchairs and four additional passengers (including the driver).  The rental rate is equivalent to a standard mini-van.
Off-campus accessible vehicle rental is available to you through Clock Mobility.
Cancellation
Short-term rental
You must cancel short-term reservations at least 24 hours prior to your scheduled time of pickup to avoid a $15 fee.
Long-term lease
There is no fee for canceling your long-term vehicle lease.
Vehicle regulations
You are not able to lease vehicles through the online Service Request portal.  You are subject to the following regulations when in possession of a university vehicle:
Rates provide for all expenses except tolls, parking fees, traffic violations, towing and service fees not mechanically related, and the first $500 of damages or loss resulting from an at-fault accident, vandalism, etc. All requests for reimbursement of expenses paid with personal funds should be submitted to the Transportation Services office as soon as possible after the purchase has been made.

The University Vehicle Policy may be found in the Manual of Business Procedures, Section 245. For vehicle reservation and additional information, call

(517) 353-5280

during the hours of 8 a.m. to 4:30 p.m., Monday to Friday.

An approved university

Travel Request

in Concur and a valid (domestic) operator's license are required to pick up a university vehicle.

Review driver responsibilities found in Section 35 of the 

Manual of Business Procedures

 and take the required steps.

For information on what to do in case of an accident, see Section 35 of the Manual of Business Procedures.

Drivers and all passengers in vehicles must wear safety belts. Child seat belt requirements must be adhered to as well.

Departments requesting student drivers must also complete the 

Request for Michigan Driver Record form

 and maintain current records within their department.

Special vehicle leases may be arranged to meet specific needs. Vehicle rates may vary with the addition of specialized equipment.

Rentals may be arranged from off-campus agencies when university demand exceeds on-campus vehicle availability.  

 
Vehicle Repair and Maintenance
Our certified mechanics maintain all university vehicles, ensuring safety and cleanliness so that you can travel with confidence.
Service garage
You can have your university vehicle serviced by appointment or by walk-in at our stadium Service Garage.
Phone: (517) 355-1868
Email: ipf.servicegarage@msu.edu

Located at 325 West Shaw Lane

Open for walk-in from Monday - Friday 7:00 am – 4:30 pm

See the Manual of Business Procedures, section 245 for vehicle maintenance and repair requirements

Customized preventative maintenance plans

Vehicle Protection Plan collision damage program
Central fueling center
At our Central Fueling Center, located 409 Service Road, we offer you
Unleaded gasoline*

Bio-diesel*

Propane autogas*

Automated drive-through car wash*
*Require a university access card, available to you at our Service Garage location.
Charter Bus
Our buses are available to charter for any Michigan State University affiliate excluding political activist groups. We offer several options, including 5 biodiesel buses.  Our charter bus service is designed for customization to fit the individual needs of any chartered group.
We take pride in providing safe transportation methods on campus and beyond. You can watch our "Inside IPF" video to learn more about our people, values, and operations.